I first tried chocolate and Guinness cake at a Movember-themed bake sale at work last year. I really like this cake but it can be a little heavy. I even took it to my first event of the Clandestine Cake Club as the theme was "something to sip on".
If you are not familiar with the Clandestine Cake Club, it's a great cake club, like the name suggests. Each meeting has a theme and all the attendees have to bake a cake based on that theme, the rules are no cupcakes only cakes allowed and the cake must be big enough for 12 slices. You then go to the events have a slice of each cake and have a chat.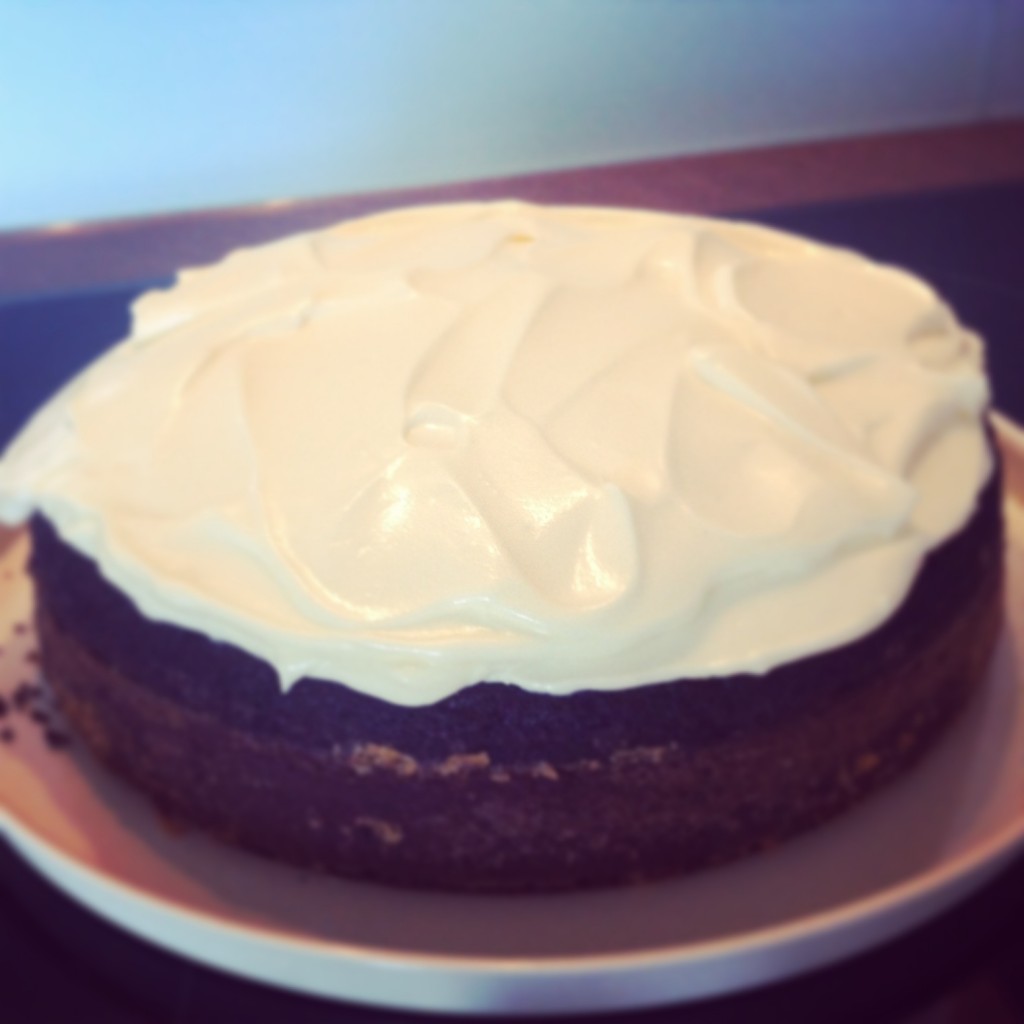 Ingredients for the Chocolate and Guinness Cake:
250 ml Guinness
142 ml sour cream
2 large eggs
1 tablespoon vanilla extract
250 grams unsalted butter
400 grams caster sugar
275 grams plain flour
75 grams cocoa powder
2 ½ teaspoons bicarbonate of soda
Ingredients for the Cream Cheese Icing:
150 grams icing sugar
300 grams cream cheese
125 ml double cream
 Method
Preheat the oven to gas mark 4/180°C/350ºF,
Line a 23cm tin with butter and baking paper
Pour the Guinness into a large saucepan; then add the butter and heat until the butter's melted
Remove from the heat and whisk in the cocoa powder and sugar.
In a separate bowl, beat the sour cream with the eggs and vanilla and then pour into the mixture
Finally whisk in the flour and bicarbonate of soda.
Pour the cake mixture into the greased and lined tin and bake for 45 minutes to an hour, until a skewer comes out clean.
This is a very dark cake so don't worry, you haven't burnt it.
Leave the cake to cool completely in the tin on a cooling rack, as it is quite a damp cake.
When the cake's cold, it's time to make the icing.
Lightly whip the cream cheese until smooth
Now sieve over the icing sugar and then beat them both together. Remember to cover the bowl with a tea towel or you will get the icing sugar powder everywhere.
Add the cream and beat again until it makes a spreadable consistency.
Ice the top of the chocolate cake.
Enjoy!