This is probably the most well known cake in Portugal, one of the main reasons is because it's so easy to make.
Bolo de Iogurte is perfect as part of a weekend continental breakfast (which I have to say is my favourite kind of breakfast) or just a snack. Its a no fuss, no icing cake. Just moist and soft.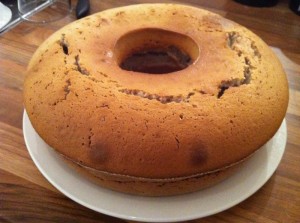 Ingredients for the Yoghurt cake:
2 x 125g yoghurt (use your favourite flavour, I used raspberry)
3 x cups of flour
3 x cups of sugar
1 x cup of vegetable oil
1 x teaspoon of baking power
5 eggs
Method:
Pre-heat the oven to 180°C/350°F/Gas Mark 4.
Lightly grease a cake tin with butter then dust it with flour. I have used a cake tin that is used in Portugal, for some reason Portuguese cakes always have a whole in the middle.
Add the eggs and the yoghurt into a large bowl. Save one of the yoghurt pots as this will be used for your measures.
Add the baking powder, the 3 yoghurt pot measures of flour, sugar and one yoghurt pot measure of oil to the bowl.
Beat well, for about 10 minutes or until the mixture appears soft and  starts to bubble
Pour the mixture into the tin
Bake for about 35-40minutes or until the skewer comes out clean.